Ice Armor


Class: Wizard (Diablo III)
Required Level: 14
Skill Category: Conjuration
Active / Passive
Cost: 25 Arcane Power

Surround yourself in a barrier of ice that reduces damage from melee attacks by 12%. Melee attackers are either Chilled or Frozen for 3 seconds. Lasts 10 minutes.

Damage Type: Cold
Other Stats: Only one Armor spell can be active at a time; Does not interrupt casting; Can be cast on the move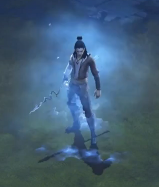 Ice Armor is a Cold spell used by Wizards in Diablo III. It bears some resemblance to the classic Sorceress skills Frozen Armor, Shiver Armor and Chilling Armor.
In-game
Ice Armor counts as an Armor spell, and only one Armor can be active at a time. It is arguably the most risky of the three Armor spells available to the Wizard, as it only takes effect in melee combat. However, it can be a useful skill for melee-orientated Wizards. Chill slows enemies' movement speed by 60%, triggers if the attacker cannot be frozen, or if they have been recently frozen by Ice Armor.
The damage reduction only applies to melee attacks, including ground-based monster affixes.
Runes
Chilling Aura: all enemies within 15 yards are chilled, slowing their movement speed by 80% (unlocked at level 21).
Crystallize: whenever the Wizard is struck by a melee attack, their Armor is increased by 20% for 30 seconds. This effect stacks up to 3 times (unlocked at level 31).
Jagged Ice: melee attackers also take 189% damage as Cold (unlocked at level 42).
Ice Reflect: Melee attacks have a 40% chance to create a Frost Nova centered on the attacker, dealing 75% damage as Cold and Freezing all affected enemies for 3 seconds (unlocked at level 49, does not benefit from any enhancements to the existing Frost Nova skill).
Frozen Storm: also deals 80% damage as Cold every second to enemies within 15 yards. Affected enemies are Chilled (unlocked at level 53).
Non-rune enhancements
Halo of Arlyse (Legendary Ring): increases melee damage reduction of Ice Armor to 50-60% and casts Frost Nova if damaged quickly.