"This is a vault of dreams, not bones. It has been long since any visited these chambers...longer still since any paid their respects."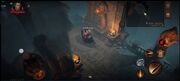 Iben Fahd's Sanctum (a.k.a. the Sanctum of Iben Fahd) is a zone in Diablo Immortal.
Lore
The Sanctum was created by the original Horadrim. During the Hunt for the Three, the leaders of the Horadrim gathered her and imbued their essence into vessels, storing their memories and power for future Horadrim. These became manifest in 'living memories.' A portal device (or something similar) was built under the land where Westmarch would be constructed hundreds of years later, which led to the sanctum. Inside the sanctum, the Horadrim trained in the Aspirants' Grounds.
In 1270, the Memory of Iben Fahd guided a hero to the Sanctum, deeming them fit to carry the legacy of the Horadrim.[1]
In-game
The Sanctum appears in Diablo Immortal, and is unlocked during the "Legacy of the Horadrim" quest. It is classified as a Westmarch zone, but appears to be far away from Westmarch itself. It is here that players use the Legacy of the Horadrim system.
Monsters
The monsters appear outside the sanctum proper, inside the Aspirants' Grounds.
NPCs
Caldessan

Cathan

Jered Cain

Nilfur

Nor Tiraj

Tal Rasha

The Nameless

Zoltun Kulle
References