Horde of the Ninety Savages is a Barbarian item set in Diablo III, added in patch 2.6.8.
It is named after the titular Barbarian tribe.
The set requires a character level of 70 and can only be equipped by the Barbarian class. This set can only drop at Torment difficulty.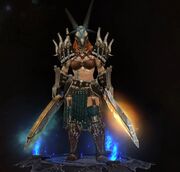 The set consists of six pieces. All six are required to complete the set, and all of them are Barbarian-restricted.
Set Bonus:
Double the effectiveness of all Shouts. Feared, Stunned and Frozen enemies take double damage (2 pieces)
Each stack of Frenzy reduces damage taken by 6%, and Frenzy lasts twice as long (4 pieces)
Frenzy deals 1000% increased damage per stack (6 pieces)
For the first bonus, includes Battle Rage, Threatening Shout and War Cry, doubling all of their basic and rune effects, excluding the duration (there is an Inspiring Presence passive for that, though). The double damage effect is multiplicative to other similar modifiers and applies to any source of Fear/Freeze/Stun.
The second and third bonuses allow for a Primary skill-centered set. Simplicity's Strength, Oathkeeper, Depth Diggers, The Undisputed Champion and Bastion's Revered are recommended to enhance it further.
Community content is available under
CC-BY-SA
unless otherwise noted.