The Horadric Malus is a quest item needed to complete the Tools of the Trade quest. It has powers rivalling the Hell Forge Hammer.
It is an enchanted smithing hammer that Charsi left behind when she fled the Rogue Monastery. When the forces of Andariel took control the Monastery, the Malus was entrusted to The Smith in the Barracks.
The Horadric Malus is a thoroughly unremarkable as a weapon, and is much better used to complete the quest.

Horadric Malus
One-Hand Damage: 6 To 16
Durability: 66
Required Strength: 16
Required Dexterity: 16
Mace Class - Slow Attack Speed

Background
Edit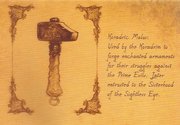 The Rogue Monastery served as temple, military headquarters and home for the Sisters of the Sightless Eye for generations. It was here that the Rogues gathered in times of peace to train and in times of war to utilize that training.
During the Sin War, the ancient Horadric Mages forged and enchanted a weapon that also held the power to create powerful artifacts.
When their union dissolved, this Horadric Malus was entrusted to the Sisterhood guarding the pass into the East.
Community content is available under
CC-BY-SA
unless otherwise noted.