Holy Fire is a Paladin Skill in Diablo II.
Lore
With a hint of brimstone in the air, the noble Paladin strides into battle encased in this holy aura. All those within its range are burnt with the fires of divine virtue. Beware, Beasts of Hell! The fire of purification is upon you!
General Information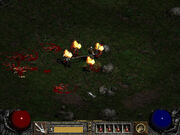 Holy Fire is the first aura that adds Elemental Damage to the Paladin's attack and deals periodic damage to enemies near the Paladin. At high levels, this skill rapidly kills entire screens of Monsters in early Normal difficulty.
Holy Fire is rarely used elsewhere due to its low damage potential and it being generally outclassed by Holy Shock. It mainly finds use with niche builds like so-called Rangers, Paladins who use any missile weapon which shoots Exploding Arrows as their main weapon. The Aura's Fire Damage is actually added to the area-effect explosions and can be quite high when fully synergized.
Necromancer's Fire Golem inherently has this Aura.
There are also a few items that give this Aura, including the runewords Dragon and Hand of Justice.
Synergies
Skill Progression
| Level | 1 | 2 | 3 | 4 | 5 | 6 | 7 | 8 | 9 | 10 |
| --- | --- | --- | --- | --- | --- | --- | --- | --- | --- | --- |
| Radius(yards) | 4 | 4.6 | 5.3 | 6 | 6.6 | 7.3 | 8 | 8.6 | 9.3 | 10 |
| Fire Damage | 1–3 | 1.5–3.5 | 2.5–4.5 | 3–5 | 4–6 | 4.5–6.5 | 5.5–7.5 | 6–8 | 7–9 | 8.5–10.5 |
| Fire Damage + To Attack | 6–18 | 10–22 | 15–27 | 19–31 | 24–36 | 28–40 | 33–45 | 37–49 | 43–55 | 49–61 |
| Level | 11 | 12 | 13 | 14 | 15 | 16 | 17 | 18 | 19 | 20 | 25 |
| --- | --- | --- | --- | --- | --- | --- | --- | --- | --- | --- | --- |
| Radius(yards) | 10.6 | 11.3 | 12 | 12.6 | 13.3 | 14 | 14.6 | 15.3 | 16 | 16.6 | 20 |
| Fire Damage | 9–11 | 10–12 | 11–13 | 12–14 | 13–15 | 14–16 | 15–17 | 16–18 | 17–20 | 18–21 | ? |
| Fire Damage + To Attack | 55–67 | 61–73 | 67–79 | 73–85 | 79–91 | 85–97 | 91–105 | 97–112 | 103–120 | 109–127 | |