Holus was the mayor of New Tristram. During the End of Days, he met his end at Bastion's Keep.
Biography
Edit
With the coming of the Fallen Star, the dead rose and began to assault New Tristram. He tried to flee and take his broken cart with him, regardless of the blockage it caused. He claimed that the town was doomed and that anyone with a grain of sense would flee. His cowardice disgusted both the townsfolk and the Nephalem, who refused to help him. Eventually, the townsfolk dragged his cart aside, leaving him to wallow in his despair[1] before fleeing.[2]
Holus made his way to Bastion's Keep, only to find the fortress under siege by Azmodan's demons, and encountered the Nephalem again. Certain that if he stayed he would be slaughtered, he offered to pay the Nephalem anything if it would gain him an escort to safety. The Nephalem refused, and continued to do so as the siege progressed. Eventually, Holus rationalized that it was perhaps safer to stay and, if it came to it, fight. The Nephalem was taken by surprise by his change in attitude, surprised again when it was discovered that Holus had indeed stayed. As Holus stated, while he wasn't brave, he wasn't a liar.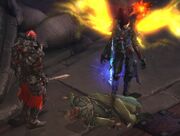 The siege was thrown back and the demons defeated.[3] However, because of the machinations of the witch Adria, demons gained entry into the fortress interior. Perhaps inspired by the bravery of the Nephalem, Holus stood his ground and fought, a defiance which cost him his life.[4]
Holus is encountered as an NPC throughout Diablo III.
In Act I, Holus is designated as "Mayor Holus," and can be found blocking the way into the rest of the town with his personal belongings in a cart. After the player visits the Cathedral for the first time, his cart will be removed from the road, permitting the player to explore the rest of the town.
Upon arriving in Act III, he can be found inside of Bastion's Keep once again cowering for his life. His name also slightly changes, gaining the title of "Former Mayor." Through the act, he will often give foresight into the oncoming quest, and the hero will encourage him to be a braver man.
Immediately after beginning Act IV, if the player returns to Bastion's Keep, they can find his corpse in his previous location. A nearby guard will explain how he stood his ground till the very end.
References
Edit
Community content is available under
CC-BY-SA
unless otherwise noted.