Highlord's Wrath is a unique amulet from Diablo II.
Directed towards physical fighters, besides its boost to Lightning Resist and Attack Speed, Highlord's Wrath is most unique among amulets for its chance of Deadly Strike. When complemented with the right equipment and a high enough character level, a player can have a very high chance of dealing double damage for each attack.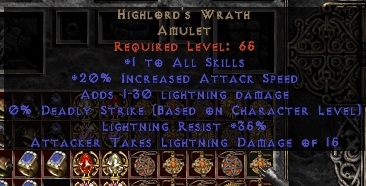 Highlord's Wrath
Amulet
Required Level: 65
+1 To All Skills
+20% Increased Attack Speed
+ (0.375 Per Character Level) 0-37 % Deadly Strike (Based On Character Level)
Lightning Resist +35%
Adds 1-30 Lightning Damage
Attacker Takes Lightning Damage Of 15
Community content is available under
CC-BY-SA
unless otherwise noted.