The High Cleric was a priest of Nereza, leader of the Greyhollow Island cult. While his true name is unknown, since his son is named Rayeld the Younger, it is possible that High Cleric was likewise named Rayeld.
High Cleric was in charge of human sacrifices made to Nereza, believing that the true sight allows one to see the real purpose of the entire religion. He raised his son to succeed him, yet soon noticed that each sacrifice makes Rayeld more erratic. The High Cleric then decided to make him sacrifice Sara.
Rayeld, however, refused to do so, turning on his father and killing him. His spirit continued to haunt the ruins, bound to offer sacrifices even in death with the aid of Fharzula, the Imperial Executioner[1][2].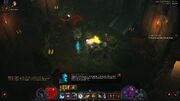 His ghost can be encountered in the Ancient Tower Study in Adventure Mode. He will not be attackable, but instead will appear if his tome (containing High Cleric's Journal) is touched. He will then summon Fharzula, the executioner, and disappear, leaving the Nephalem to fight the spellbound demon.
Benedictus es deam Nereza maximum est. Nostra digni gratia tua et amor. (roughly translated from Latin as You are the most blessed of all, goddess Nereza. May we be worthy of your love.)
Welcome, and be at peace my son/daughter. In giving your life you shall sustain us all, and blessings will be showered upon us in the afterlife, where you will soon join me. (upon seeing the Nephalem)
Awaken. Obey. Sacrifice. (command to Fharzula)

This section contains facts and trivia relevant to this article.
Community content is available under
CC-BY-SA
unless otherwise noted.