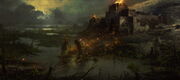 Hawezar is a geographic area in Sanctuary.
Poison, disease, and despair spread over this region like mold, growing and infecting everything within. Hawezar is a deadly land, even to those familiar with its tortuous—and torturous—paths. Witches intone long-forgotten curses within the swamps, and only those who deal in death—or wish to find it—willingly come here.[1]
Hawezar is one of the five main regions in Diablo IV.[1]
References
Edit
Locations in the Diablo universe
Community content is available under
CC-BY-SA
unless otherwise noted.