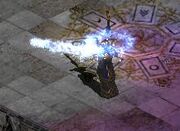 Glacial Spike is a monster skill not unlike the Sorceress skill of the same name.
It is a frozen chunk of ice spires that rapidly fly toward a target where they burst apart on impact, creating a deadly explosion of icy particulates.
This skill is used by the Summoner, and can be quite hazardous, especially to someone that relies on minions as these long-range projectiles will slow and damage everything in their area of effect. Since the Summoner is usually surrounded by other monsters, it can be quite difficult reaching him while he pounds away with his Glacial Spikes from relative safety.
Community content is available under
CC-BY-SA
unless otherwise noted.