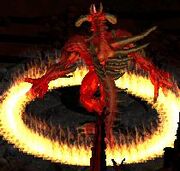 Flame Circle, also called Fire Nova, is a powerful move used by Diablo. Although it's slightly weaker than Baal's Incineration Nova, the spell deals a lot of damage if it touches the player, so high Fire Resistance is recommended when fighting the Lord of Terror. Unlike Baal's Incineration Nova, the flames Diablo shoots from his body are not semi-transparent.
This ability returns in Diablo III, but with a different animation: Diablo will lift his left leg and smash the floor, creating a nova of large fireballs all over the arena.
Community content is available under
CC-BY-SA
unless otherwise noted.