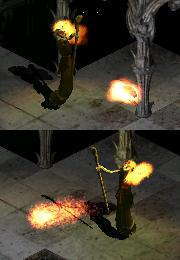 Fireballs are a monster skill not unlike the Sorceress skill of the same name.
They are Fire attacks that fly through the air for a short distance until colliding with an object or spontaneously exploding at their maximum range. The explosion causes area of effect damage, making the projectile more difficult to dodge.
Vampires cast both Fireballs and similar-looking Leech-life Balls. The Fireball is a sphere of fire and does not absorb life, whereas the Life Steal Missile resembles a burning skull and causes the red life-stealing vortex to appear over the Vampire on a successful hit.
Community content is available under
CC-BY-SA
unless otherwise noted.