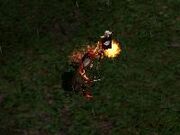 The Fire Bolt, like the Sorceress's skill, shoots a bolt of flame that does a slight Fire damage. The appearance, however, resembles a Fire Ball without the area of effect damage. The bolts also move much slower than the Sorceress' spells, and can easily be avoided with some care.
It is mainly used by the Fallen Shaman and its variants, and it can cause some trouble to low-level characters with no resistances or low Life, but characters with even minimal Fire resistance greatly reduce its potential.
Community content is available under
CC-BY-SA
unless otherwise noted.