Enoch White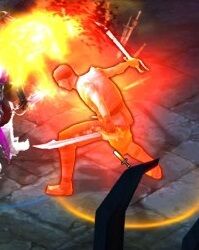 Enoch White, Thieves Guild Assassin, is a Unique Brigand.
Enoch was present in Westmarch during the Reapers' invasion of Sanctuary. He was in the city's prison when he was confronted by the Nephalem and Lyndon. He declared that they would die "for what they did to Nigel" (another Thieves Guild member whom they had killed in Khanduras). However, Enoch was himself killed.[1]
Enoch is found in the Edlin's Cell (Westmarch Dungeon) in Act V of Diablo III. He only spawns during Lyndon's personal quest, and must be killed to complete it.
In combat, he has the Jailer affix, and attacks with multiple other Brigands. Unlike other follower quest enemies (Lysa and Grand Maester), he does not use any of Lyndon's own skills.
Community content is available under
CC-BY-SA
unless otherwise noted.