Were you looking for the Diablo I spell? See Elemental (Spell).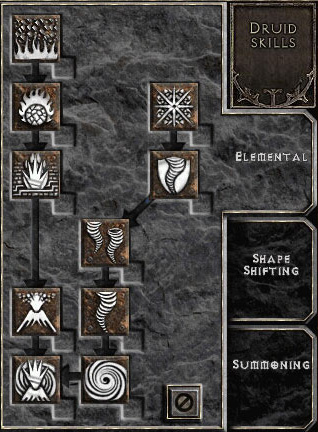 Years of study and a life lived in harmony with nature have provided Druids with a unique empathy with the world around them. These Elemental skills represent the druid's ability to influence the forces of nature. Expertise in these skills allows them to strike at enemies from a distance, assault whole groups of enemies at once, and even protect themselves from the elemental attacks of others.
You cannot cast most Elemental skills while you are in Werewolf or Werebear form.
The skill tree is uniquely set out as two distinct branches: fire and wind. The last fire skill, Armageddon, requires the last wind skill, Hurricane, which requires all the other wind skills. So effectively, Armageddon's prerequisites are every other Elemental skill.