"Doom Guards attempt to fulfill the prophesied death of any so fated by chance, fate, or at the order of a Prime Evil."

— Monster summary(src)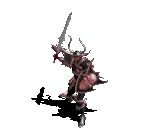 Doom Guards are a variation of the Hell Knights and the second knight class enemies encountered in Diablo I.
In-game
Doom Guards are found only in Hell up to Level 15. They can be dangerous in large numbers but are not much of a threat in smaller groups. They are vulnerable to Lightning based attacks.
Stats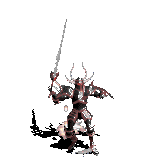 Level: 26/41/56
Dungeon Level: 13-15
Hit Points: 165-165/-/-
Damage: -/-/-
Immune: None/None/Fire
Uniques
Trivia

This section contains facts and trivia relevant to this article.