"If we don't learn from history, we are doomed to repeat it, and nobody wants to read the same story twice."

—

Diadra the Scholar(src)
Diadra the Scholar is a historian of Westmarch.
Biography
Edit
"This disaster will make for great reading, someday! Provided that anyone survives to chronicle it."

—

Diadra(src)
Prior to the Reapers' assault on Westmarch, Diadra studied ancient lore. She wrote The Craft of War, and petitioned the crown for gold for excavations. However, she never received any. She was present in the city when the Reapers assaulted it, and provided advice to the Nephalem.[1]
After Malthael's defeat, Diadra wandered the world, but then returned to Westmarch, bringing back the secrets of Xiansai and opening her own workshop.[2]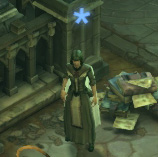 Diadra is found in Act V of Diablo III as an NPC, in Campaign Mode only. She is located in the Survivor's Enclave, behind her table.
The History of Westmarch tomes can be found in her bag. She will also lecture the Nephalem about the city and the kingdom if asked, as well as give advice on exploring the Ruins of Corvus and the Tomb of Rakkis.
She is referenced in flavor text of various items, including Helltrapper, The Ninth Cirri Satchel, Emimei's Duffel, and Bane of the Stricken.
She shares the model, voice and portrait of Kadala. However, the player will only meet them both in Adventure Mode (in Survivor's Enclave).
Personality and Traits
Edit
Diadra is one of the few women impervious to Lyndon's charm (and quite proud of it). At some point, she asked the Nephalem to tell the Scoundrel to leave the attempts to win her affection. Instead, she could be overheard fantasizing about Rakkis, imagining him as a man of unusual beauty and strength, capable of repelling the invasion of the Reapers.[1]
References
Edit
↑ 1.0 1.1 Diablo III, Act V
Community content is available under
CC-BY-SA
unless otherwise noted.