m

m

Line 5:
Line 5:
 
 
 
 
−

{| cellpadding="5px" align="center" style="text-align:center;"

+

{| cellpadding="" align="center" style="text-align:center;"

 

|-

 

|-

−

|[[Image:MonkButton.jpg|100px|border|link=:Category:Classes]]

+

|[[Image:MonkButton.jpg||border|link=:Category:Classes]]

−

|[[Image:BestiaryButton.jpg|100px|border|link=:Category:Monsters]]

+

|[[Image:BestiaryButton.jpg||border|link=:Category:Monsters]]

−

|[[Image:ItemsButton.jpg|100px|border|link=:Category:Items]]

+

|[[Image:ItemsButton.jpg||border|link=:Category:Items]]

−

|[[Image:BuildsButton.jpg|border|link=:Category:Builds]]

+

|[[Image:BuildsButton.jpg|border|link=:Category:Builds]]

 

|-

 

|-

 

|'''[[:Category:Classes|Classes]]'''

 

|'''[[:Category:Classes|Classes]]'''
---
Revision as of 18:51, 3 November 2009

Welcome to the Diablo Wiki
The premiere wiki about the Diablo series that anyone can edit
10,168 articles since March 2005
Featured article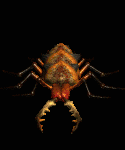 Sand Maggot
Sand Maggots, named for their burrowing abilities, are actually arthropods and not worms at all. These insects were once a staple diet for those that resided in the desert regions. The eggs were gathered and prepared as a protein-rich paste. Serving to supplement the dry foods naturally available in the region, the paste enhanced the nutritive value and flavor of meals. Now, however, the eggs, larvae, and flesh of the adults have acquired poisonous properties...
read more....
Did You Know...
...that Inarius created the world of Sanctuary?
Latest News
---
News
Tephra
•
5
I have been a bureaucrat of the Diablo Wiki since October 2011, and have now been hired by Fandom as a Wiki Manager.
So I am now also the Wiki Manager…
See more >
Community content is available under
CC-BY-SA
unless otherwise noted.