Welcome to the Diablo Wiki!
Diablo is an action role-playing video game series (sometimes called hack and slash)
developed by Blizzard Entertainment. It is made up of three core games: Diablo, Diablo II, and Diablo III.
Expansion games include the third-party published Diablo: Hellfire, which follows the first game, and Lord of Destruction, published by Blizzard and released after the second game. Reaper of Souls is the expansion for Diablo III.

This Wiki contains 9,362 articles since March 2005.
Featured Article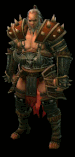 Though they were once misunderstood as simple, bloodthirsty invaders, the long and noble history of these proud people is now rightly acknowledged. And therein lies the greater tragedy here, for those of us familiar with the nobility of the barbarians remember too what they call their "vigil", the concept that lay at the very heart of their culture...
read more...
Did You Know...
...that Inarius created the world of Sanctuary?
Latest News
---
Create blog post
News
I have been a bureaucrat of the Diablo Wiki since October 2011, and have now been hired by Fandom as a Wiki Manager.

So I am now also the Wiki Manager…

Read more >

The Diablo Wiki now has a Discord where you can discuss the wiki or just chat about the Diablo series in general.

Go here to get the invite link.

Read more >




Against the Burning Hells: Diablo III's Road to Redemption with Reaper of Souls

I had the pleasure to attend a talk by Josh Mosqueira; a Lead Game Des…

Read more >
See more >