Raise a Floppa - The Loop
Play Sound
This page contains obsolete content
This article contains information that is no longer relevant to gameplay, but is kept here for informational purposes.
"So, Blizzard North scrapped that version of D3 and started out making what they referred to (some jokingly, some bitterly) as Diablo 2.5. Later, circumstances dictated a change in orders, forcing North to rethink their direction. By the time Blizzard North had made serious headway on the game, the studio was closed. Based on what I know, I think Blizzard North's D3 would have retained enough of D2's spirit and mixed in new elements that it would have been successful and great fun, but maybe not as ground-breaking as D2. Of course, it was only about one-third finished, so who knows how things would have turned out?"
Diablo 2.5 was an internal name made up by Blizzard North to describe their version of Diablo III late in the project's life cycle.
Plot
"The Diablo writer's bible had a two paragraph section called "The Future," which had a brief plot summary of what appeared to be Diablo III, and a sentence before stating that the only way it should appear, if it appears at all, is in the context of a vision or prophecy. It wasn't named Diablo III explicitly, but it was pretty obvious what it was. The paragraphs outlined the Second Great Conflict between order and chaos, mentioning that powerful heroes would emerge (and it didn't really go beyond that - the writer's bible did not go beyond a general summary, and it didn't say who would win). Personally, I thought it sounded like a massively multiplayer game. So, when Blizzard started gathering people for World of Warcraft, I nodded sagely and told my friends that Diablo III was coming... let's just say when the actual announcement was made, it surprised the hell out of me."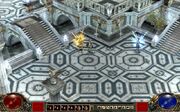 An outline for Diablo III existed as early as 2000.[1] At this point in time, the Diablo Writer's Bible (a guide for authors who worked on tie-in novels) held a two paragraph section titled "The Future," which gave a brief plot summary on "what appeared to be Diablo III" (in the words of Robert B. Marks). It stated that this material should not appear in any novel bar through means of vision or prophecy. The paragraphs outlined the Second Great Conflict between order and chaos, mentioning that powerful heroes would emerge, but not specifying who would win.[2]
According to Chris Hartgraves (a former Blizzard North employee), the game was to take place primarily in Heaven.[3] Comments from an art director on the project corraberate this statement. Hartgraves further claimed that the storyline/gameplay would involve Hell trying to take over Heaven.[4]
Gameplay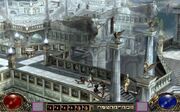 The game was to be an MMO, with a strong focus on PvP and factions.[5] The game would have used a 3D engine, but stay close to the visual tone of the previous entries.[6] Screenshots released in 2011 showed the presence of an "Angelic Lands" zone within Heaven, and another zone simply referred to as "Keep." The player(s) would encounter archangels in Heaven, including Tyrael (these angels had a very different visual style from their Diablo II versions, with said style being carried on to the current Diablo III game), and fight creatures similar to the Bat Demons. At least one class was available, an individual equipped with a sword and shield in a vein similar to the Paladin of Diablo II. The inventory tab was similar to those of the previous games in the series, with health and mana potions numerically assigned and located on the bottom of the screen.[6]
Comparisons were made to World of Warcraft in terms of the game's size and playability. References to guild halls were also made. Every single item in the game was to have a "light" and "dark" version, but apart from a visual change, their stats remained the same.[4] Similarly, an angel/demon "influence system" was experimented with, where players could pick a narrative alignment.[7]
Development
Blizzard North, the developers of the series's previous games, intended to work on a second expansion to Diablo II. The second expansion would have focused more on expanding Diablo II's multiplayer features. However, after a few brainstorming sessions, the team decided not to follow through on the expansion, and instead turn their attention to Diablo III.[8] Work began in 2001,[9] and by 2003, Blizzard North had created some monster models, such as the Flayed Hound and Immolated Warrior.[10] However, in this year, David Brevik and the Schaefer Brothers left Blizzard North. With their resignation, Blizzard South took over (some) control of Blizzard North and gave them a guideline for Diablo III—"make it like Diablo 2." The reason for this was not wanting competition with World of Warcraft, as both games were being developed as MMOs. Thus, their version of Diablo III was scrapped, leaving it to be dubbed internally as "Diablo 2.5."
This new direction had to change again because of changes in circumstances.[11] However, this version of the game was canceled in 2005, and Blizzard North shut down[10] due to various personal and financial reasons.[3] Reportedly, the game was 33% finished at this time.[11]
Matt Uelmen worked on the score of Blizzard North's version of Diablo III. Reportedly, his music for the game was "big and powerful," shifting away from his previous style. His take on the game's music influenced the game's direction under Blizzard North.[12]
Reboot
"The [first version of Diablo III] that I saw was trapped in the exact place that I was concerned about us not going; it didn't feel like much of an evolution from Diablo II. I think there was more concern about being 'true to Diablo' than there was about being fresh and interesting. There was a lot of really good stuff in it, though. A lot of it did go into the current Diablo III in one way or another. There was some great monster design. There was a boss fight in the old build that we've struggled to get as good as it was in that build. But it lacked that high-level feel of identity. People would look at it and say that it felt like Diablo 2.5. That's not the Blizzard way."

— Jay Wilson on the game's original version(src)
Blizzard Irvine took over development of Diablo III in 2006, effectively rebooting it.[3]
References