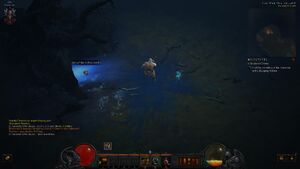 The Den of the Fallen is a medium two-level random dungeon. It can appear in the Weeping Hollow in Act I of Diablo III. This area had no quests related. A Resplendent Chest can be found inside.
Spawnable Containers
Bloody Chest
Dead Adventurer
Dead Villager
Decayed Fallen Shaman
Resplendent Chest
Spawnable Monsters
Images
Trivia

This section contains facts and trivia relevant to this article.
If Bishibosh's Remains do spawn they may drop an easter egg semi-legendary item, Wirt's Original Leg.