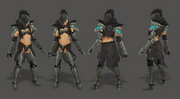 Delsere's Magnum Opus is a class item set for Wizards for level 70. This set can only drop at Torment difficulty. It was added in patch 2.2.0.
All set pieces are restricted to Wizards only. Even transmogrification of these items is only available to Wizard class.

The set consists of six pieces. All six are required to complete the set, and all of them are Wizard-restricted.
Set Bonus:
Casting Explosive Blast, Wave of Force, Arcane Orb, Energy Twister, Magic Missile, Spectral Blade or Shock Pulse reduces the remaining cooldown of Slow Time by 3 seconds (2 pieces)
The Wizard takes 60% reduced damage while they have a Slow Time sphere up, and allies within the sphere take 30% reduced damage (4 pieces)
Enemies affected by Slow Time take 12500% more damage from Arcane Orb, Energy Twister, Explosive Blast, Wave of Force, Magic Missile, Spectral Blade and Shock Pulse. This effect, as well as Slow Time's usual effects, persist for 5 seconds after enemies leave the sphere (6 pieces)
The first bonus triggers even if the skills do not hit an enemy.
The second and third bonuses work with the Archon version of Slow Time, although considering the nature of these bonuses, it is pointless to use this set in tandem with Archon.
The third bonus effect is multiplicative, and applies to any enemies even partially touched by at least one Slow Time sphere, even if they are immune to Crowd Control.
For maximum effect, one may combine this set with Crown of the Primus and Gesture of Orpheus, as well as items that empower the affected skills (such as The Twisted Sword or Unstable Scepter).

This section contains facts and trivia relevant to this article.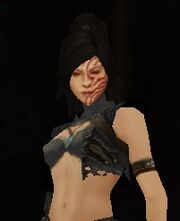 Magnum Opus in Latin means the greatest creation (of an artist).
This set specifically mentions Li-Ming, one of the Nephalem possible characters, in its description.
When Harness of Truth is equipped, it will cause the left half of the character's face to be covered with burns and scars. The Shrouded Mask will obscure the top half of these scars.
Community content is available under
CC-BY-SA
unless otherwise noted.