The Crazed Hermit is an NPC in the Wortham Bluffs in Diablo III.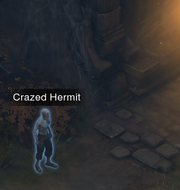 Initially, he is located in the Wortham Bluffs, outside the Caverns of Araneae. He ends the optional side quest, The Sacrificial Hermit, which is only available from Rodger the Alchemist, a rare spawn vendor near the glowing pit. The point of the quest is to deliver the potion to the Hermit; the potion in question is supposed to make his blood sweet.
In the caverns, the Hermit is found again, right before the entrance to Queen Araneae's chamber. He will say that the mistress has accepted him (no matter whether or not the Sacrificial Hermit quest has been turned in), exploding and releasing a few Spiderlings when he finishes talking. Players may escape this battle if they enter the queen's chamber before he finishes the line, or, on the contrary, kill the hermit instantly by skipping the dialogue (default SPACE key).
"My queen sings to me. Her music echoes from beyond..."
"My mistress has accepted me... Come close and feel her loving embrace..."
"I used to be one of them. Ordinary. Untouched. Until her voice came to me. Then I knew how I must serve. I must kill the one who threatens my mistress and the dark power that created her. I have been chosen! (Hermit's Ravings)
"Oh... this is perfect! My mistress will now accept me! Her blood and mine will soon sing as one!" (upon completion of the event)

This section contains facts and trivia relevant to this article.
Crazed Hermit's appearance and behavior are likely modeled after Gollum from Lord of the Rings. In addition, in World of Warcraft, the whole race of spider-worshipping crazed pale orcs is found, also very similar to the Crazed Hermit and to the named character.
Community content is available under
CC-BY-SA
unless otherwise noted.