Fire Emblem Warriors: Three Hopes - The Loop
Play Sound
Conquests are a season-only feature for Diablo III.
With the start of each Season, players will have the opportunity to earn Conquests. Conquests are special Season-only achievements (offered in addition to the suite of non-Seasonal achievements already available in the game) that represent a variety of challenging goals. These goals can vary in terms of gameplay and difficulty, and some might be easier to complete than others. With tasks ranging from killing Malthael at level 70 on Torment VI to finishing the five acts in an hour or less, Conquests are designed to encourage and promote an array of different playstyles.
Conquests are considered "first come, first served," and the first 1,000 individuals to complete a Conquest within a given Season will be immortalized on that Season's regional Leaderboard. Blizzard Entertainment intends to provide between 10-15 unique Conquests each Season, and each Conquest will have its own Leaderboard. Conquests will also provide achievement points and will count toward a player's Seasonal point total. These points will be provided regardless of whether a player's character placed in the regional Leaderboard.[1]
List of Conquests
Season 1 Conquests
Season 2 Conquests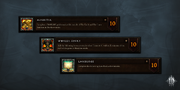 Season 2 will see Conquests that encourage long-term goals, activities that encourage a variety of gameplay, and out-of-the-box thinking.[3]
Old conquests returning
Sprinter
Speed Racer
It's A Marathon
Old conquests not returning
Race To The Top
Living Dangerously
New and changed conquests
Season 3 Conquests
Old conquests returning
Sprinter
Avarice
Avaritia
Old conquests not returning
New and changed conquests
Season 4 Conquests
Season 5 Conquests
Old conquests returning
Sprinter
Speed Racer (HC)
Avarice
Avaritia (HC)
New and changed conquests
Season 6 Conquests
New and changed conquests
Season 7 Conquests
Sprinter / Speed Racer (HC)
Avarice / Avaritia (HC)
On a Good Day! / I Can't Stop (HC)
Divinity / Lionhearted (HC)
The Thrill / Super Human (HC)[8]
Season 8 Conquests
Boss Mode / World's Apart (HC)
Divinity / Lionhearted (HC)
Curses! / Stars Align (HC)
Years of War / Dynasty (HC)
Masters of the Universe / Masters of Sets (HC)[9]
Season 9 Conquests
Avarice / Avaratita (HC)
Curses! / Stars Align (HC)
Sprinter / Speed Racer (HC)
The Thrill / Super Human (HC)
Speed Demon / Need for Speed (HC)[10]
Season 10 Conquests
Sprinter / Speed Racer (HC)
Boss Mode / Worlds Apart (HC)
On A Good Day / I Can't Stop (HC)
Years of War / Dynasty (HC)
Masters of the Universe / Masters of Sets (HC)[11]
Season 11 Conquests
Avarice / Avaratita (HC)
Speed Demon / Need for Speed (HC)
Boss Mode / Worlds Apart (HC)
Divinity / Lionhearted (HC)
Masters of the Universe / Masters of Sets (HC)[12]
Season 12 Conquests
On a Good Day / I Can't Stop (HC)
Boss Mode / Worlds Apart (HC)
The Thrill / Super Human (HC)
Curses! / Stars Align (HC)
Years of War / Dynasty (HC)[13]
Season 13 Conquests
Sprinter / Speed Racer (HC)
Divinity / Lionhearted (HC)
Curses! / Stars Align (HC)
The Thrill / Super Human (HC)
Masters of the Universe / Masters of Sets (HC)[14]
Season 14 Conquests
Avarice / Avaratita (HC)
On A Good Day / I Can't Stop (HC)
Speed Demon / Need for Speed (HC)
Divinity / Lionhearted (HC)
Years of War / Dynasty (HC)[15]
Season 15 Conquests
Sprinter / Speed Racer (HC)
Avarice / Avaritia (HC)
Boss Mode / Worlds Apart (HC)
The Thrill / Superhuman (HC)
Masters of the Universe / Masters of Sets (HC)[16]
Season 16 Conquests
Speed Demon / Need for Speed (HC)
On A Good Day / I Can't Stop (HC)
Boss Mode / Worlds Apart (HC)
Curses! / Stars Align (HC)
Years of War / Dynasty (HC)
Season 17 Conquests
Sprinter / Speed Racer (HC)
Avarice / Avaritia (HC)
The Thrill / Super Human (HC)
Years of War / Dynasty (HC)
Masters of the Universe / Masters of Sets (HC)
Season 18 Conquests
Divinity / Lionhearted (HC)
Speed Demon / Need for Speed (HC)
On A Good Day / I Can't Stop (HC)
Boss Mode / Worlds Apart (HC)
Curses! / Stars Align (HC)
Season 19 Conquests
Sprinter / Speed Racer (HC)
Avarice / Avaritia (HC)
On A Good Day / I Can't Stop (HC)
Divinity / Lionhearted (HC)
The Thrill / Super Human (HC)
Season 20 Conquests
Boss Mode / Worlds Apart (HC)
Divinity / Lionhearted (HC)
Curses! / Stars Align (HC)
Years of War / Dynasty (HC)
Masters of the Universe / Masters of Sets (HC)
Season 21 Conquests
Sprinter / Speed Racer (HC)
Avarice / Avaritia (HC)
Speed Demon / Need for Speed (HC)
The Thrill / Super Human (HC)
Curses! / Stars Align (HC)
Season 22 Conquests
Sprinter / Speed Racer (HC)
On A Good Day / I Can't Stop (HC)
Boss Mode / Worlds Apart (HC)
Years of War / Dynasty (HC)
Masters of the Universe / Masters of Sets (HC)
Season 23 Conquests
Avarice / Avaritia (HC)
Speed Demon / Need For Speed (HC)
Boss Mode / Worlds Apart (HC)
Divinity / Lionhearted (HC)
Masters of the Universe / Masters of Sets (HC)
Season 24 Conquests
On A Good Day / I Can't Stop (HC)
Boss Mode / Worlds Apart (HC)
The Thrill / Super Human (HC)
Curses! / Stars Align (HC)
Years of War / Dynasty (HC)
Season 25 Conquests
Sprinter / Speed Racer (HC)
Divinity / Lionhearted (HC)
The Thrill / Super Human (HC)
Curses! / Stars Align (HC)
Masters of the Universe / Masters of Sets (HC)
Season 26 Conquests
Avarice / Avaritia (HC)
Speed Demon / Need For Speed (HC)
On A Good Day / I Can't Stop (HC)
Divinity / Lionhearted (HC)
Years of War / Dynasty (HC)
References