Command Skeletons


Class: Necromancer (Diablo III)
Required Level: 9
Skill Category: Reanimation
Active / Passive
Cost: 50 Essence

Passive: Raises skeletons from the ground every 2 seconds to a maximum of 7 skeletons. Skeletal minions deal 50% damage as Physical per attack.

Active: Commands the skeletal minions to attack the target and increase their damage by 50% against the designated target.

Damage Type: Physical
Other Stats: Summon; Cannot be cast without a target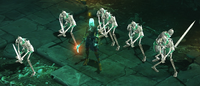 Command Skeletons is a Reanimation Necromancer skill in Diablo III.
The skill passively summons up to 7 Skeletons that follow the Necromancer. If any of them die, a new one will be summoned every few seconds. The Skeletons attack the target of their choice like most pets, and have the same Toughness as their master.
The skill can only be activated (Commanded) against a specific target (enemy or object). Upon activation, the Skeletons break any Crowd Control effects on themselves, gain increased damage and focus their attacks on the targeted enemy. Damage buff from multiple casts does not stack. Command lasts until the target dies or another foe is designated; Skeletons summoned after issuing the Command will also attack the target, and also gain the buff. Note that increased damage only applies against the current Commanded target.
Visually, skeletons glow brighter while Commanded, the target will have a runic circle beneath it, and the icon on the UI will glow with a golden outline. The skeletons will also rush to their target when Commanded, effectively teleporting up to 60 yards to reach their mark.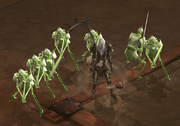 Non-rune enhancements
Edit
Development
Edit
Originally, this spell included several Skeletal Mages in addition to normal Skeletons. However, developers decided that the Raise Skeletal Mage ability from Diablo II needs reworking, and so Skeleton Mage skill was reworked to act differently.[1][2]
The original design of Raising Skeletons from dead enemies meant one had to kill enemies before having skeletons, which led to gameplay problems. The team wanted to relieve players from the burden of having to raise the skeletons themselves, but having them all at once made it not seem fun to use as a skill. This led to the current design: the skeletons summoned slowly over time which feels like they are being raised from bodies, but no actual need for corpses to do it.[3]
References
Edit
↑ 2017-04-03, THE NECROMANCER SUMMIT: REVIVE, SKILLS, & PASSIVES DISCUSSIONS. Blizzpro, accessed on 2017-04-04
↑ 2017-04-03, THE NECROMANCER SUMMIT: REVIVE, SKILLS, & PASSIVES DISCUSSIONS. Blizzpro, accessed on 2017-04-04
Community content is available under
CC-BY-SA
unless otherwise noted.