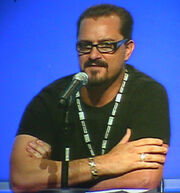 Chris Vincent Metzen alias Thundergod was the Vice President of Creative Development at the computer game developer/publisher Blizzard Entertainment. He is responsible for most of the storylines and lore (through instruction manuals, etc.) found in the Warcraft and StarCraft series of games as well as concept art and character design.
Metzen was recruited by Blizzard in 1994, at the age of 19. At the time, he had expected to bounce between jobs in the comics, games, and film industries. However, the ability of the videogame medium to focus on multiple genres and generate a variety of ideas compelled him to stay in the industry.
Metzen pioneered the idea of Blizzard's "strike teams," which provided internal feedback to the company's development teams. This was part of an effort to keep the company's original development culture together.[1]
Metzen worked with Blizzard's cinematic team, and gave feedback on its storyboards.[2] Metzen left Blizzard in late 2016, entering retirement.[3]
He is also part of the Sons of the Storm.
Diablo Related Works
Edit
The fictional universe of Diablo was created by both Metzen and fellow designer Bill Roper.[4] He developed the game's story.[5] Metzen also provided voice acting for some of the game's characters.[4]. He continued his work with the Diablo series in 2000 on Diablo II, where he worked on the game's story, script, and artwork.[6] He likewise developed the story of Diablo III.[5]
Manual Design Layout
Manual Art Work
The Initiate from page 3 of the Diablo instruction manual.
The Adept from the Diablo II instruction manual.

This section contains facts and trivia relevant to this article.
References
Edit
External link
Edit
Community content is available under
CC-BY-SA
unless otherwise noted.