Chilling Armor is a Sorceress Skill in Diablo II.
Description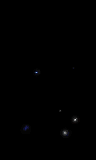 The best defensive spell available to a Sorceress is manifest in this formidable armor. The spell actually defends against ranged attacks, turning aside arrow and bolt. Those seeking to engage the Sorceress shall soon feel the icy bite of their folly.
General Information
The final Cold Armor spell learned by the Sorceress, Chilling Armor sends Ice Bolts at attackers when they hit her with projectiles. It does not synergize with Ice Bolt, however.
Chilling Armor is indeed useful when fighting ranged foes, but it also has some problems. For one, although its Defense Bonus is higher than that of Frozen Armor, it is much lower than the bonus of Shiver Armor. But the biggest flaw is the fact that Chilling Armor only defends against ranged attackers; when hit by a melee attack, Chilling Armor will not retaliate. Therefore, Sorceresses that plan on fighting in the fray (such as some Enchantresses) would find Shiver Armor much more useful, while Sorceresses planning on staying on the back line might find Chilling Armor better.
Skill Progression
Mana Cost: 17
| Level | 1 | 2 | 3 | 4 | 5 | 6 | 7 | 8 | 9 | 10 | 11 |
| --- | --- | --- | --- | --- | --- | --- | --- | --- | --- | --- | --- |
| Bonus Defense | 45% | 50% | 54% | 60% | 65% | 70% | 75% | 80% | 85% | 90% | 95% |
| Damage | 4–6 | 5–8 | 6–10 | 7–11 | 9–13 | 10–15 | 11–17 | 12–18 | 14–21 | 17–24 | 19–27 |
| Duration | 164s | 170s | 176s | 182s | 188s | 194s | 200s | 206s | 212s | 218s | 224s |
| Level | 12 | 13 | 14 | 15 | 16 | 17 | 18 | 19 | 20 |
| --- | --- | --- | --- | --- | --- | --- | --- | --- | --- |
| Bonus Defense | 100% | 105% | 110% | 115% | 120% | 125% | 130% | 135% | 140% |
| Damage | 21–30 | 22–33 | 26–35 | 28–38 | 30–41 | 34–45 | 37–49 | 41–53 | 44–57 |
| Duration | 230s | 236s | 242s | 248s | 254s | 260s | 266s | 272s | 278s |