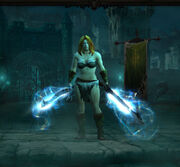 Bul-Kathos's Oath is a Barbarian-only minor class set in Diablo III, reminiscent of the Diablo II Bul-Kathos' Children set.
This set is named after the Immortal King Bul-Kathos. It requires a character level of 60.
The set consists of just two items, both of which are required to complete the set. Both pieces are Barbarian-only.
Set Bonuses (2 pieces):
Fury regeneration bonus works regardless of whether or not the Barbarian is in combat. Due to such boost, using Whirlwind in combat de-facto costs 15 less Fury per second, or even none with proper build. This set is most powerful when coupled with Wrath of the Wastes.