Brother Malachi the Healer is a preacher based in New Tristram.
Biography
Edit
Malachi was present when the Fallen Star smashed into the Tristram Cathedral, its arrival prompting an undead assault on the town. He offered his services as a healer to a band of heroes who helped defend the town.[1]
Months later,[2] Malachi was still present in New Tristram. He treated members of the reformed Horadrim order after they had fought some demons outside the town. He was paid handsomely in exchange for keeping his silence about what had occurred.[3]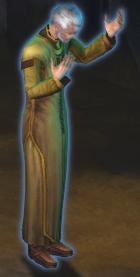 Malachi is an NPC in the first act of Diablo III. He can be found preaching outside the Slaughtered Calf Inn. He offers blessings to the player(s), restoring their health to full.
"Zakarum has fallen to disgrace.... What faith can save us now? It is the end of the world, can't you see that?!" (during the Fallen Star quest)
"What was once one shall become four, though the three shall become one, never will the four be whole." (a possible reference to Tyrael and the breaking/reforging of El'druin, the paradigm of the Great Evils and Tathamet, or the Angiris Council after Malthael's absence, and Tyrael's abandonment of the council)
"This is not a time for mourning, this is a time to dry our tears and draw our weapons!  There can be no pity for the pitiless!  Save redemption for those that seek it!" (After Cain's death)
After Being Healed
Edit
Along with the rest of the healers seen over the course of the storyline offered by the classic Diablo III experience, Brother Malachi will randomly say one of the following quotes to the Nephalem upon receiving his blessing.
"As the shepard watches over his flock, so shall I care for those who seek to protect us."
"Death may be upon us all soon, but I shall do what I can to ease your pain."
"May the gods who abandoned us come to your aid one last time."
References
Edit
↑ Diablo III: Storm of Light (Paperback). Book Depository, accessed on 2013-09-05
Community content is available under
CC-BY-SA
unless otherwise noted.