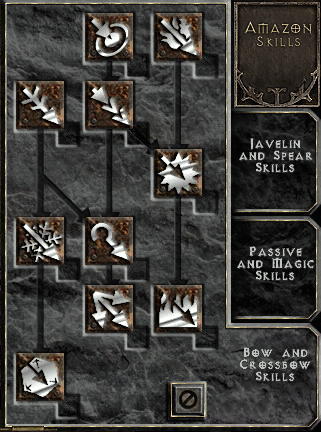 Bow and Crossbow Skills are a set of skills for the Amazon. All of these are ranged attacks. Seven of the skills in this skill group are specific weapons, such as the Cold Arrow, the Immolation Arrow, and the Magic Arrow. The other three skills––Strafe, Multiple Shot, and Guided Arrow--are modifiers of existing arrow weapons (either from a crossbow or from a bow). These don't offer up new distinct missile weapons, but rather they make a player's existing missile weapon better. For example, Multiple Shot sends out several (more when skill points are applied to it) arrows for every one arrow a player fires.
There is a simple bug associated with Attack Rating bonus conferred by all bow skills that confer them - that is, they don't have any actual effect, even though they are displayed on the character screen.
Community content is available under
CC-BY-SA
unless otherwise noted.