Fire Emblem Warriors: Three Hopes - The Loop
Play Sound
Book of Cain
Artist(s)
Various
Pages
148
Publisher
Insight Editions
Published
December 13, 2011
Binding
Hardcover, paperback

Diablo III: Book of Cain is a hardcover by Insight Editions. It was published on December 13, 2011.[1][2]
It is presented as a compendium of Diablo lore, shown as an illustrated history by Deckard Cain.[3]
Description
An exceptionally illustrated fiction for millions of Blizzard fans, Diablo III: Book of Cain is the source book for Blizzard Entertainment's Diablo franchise and forthcoming Diablo III game. Book of Cain is the must-have illustrated history of the Diablo universe as told by the games' core narrator Deckard Cain.
In Blizzard Entertainment's Diablo® and Diablo II, the recurring character of Deckard Cain delivered quests, accompanied the brave adventurer, and, as the last of the Horadrim, provided a link to the greater history of the world of Sanctuary. Ever mysterious during these appearances, Cain hinted at a larger story, providing snippets of it in his notebook. Diablo III: Book of Cain is Cain's formal record of this greater tale—a dissertation on the lore of the Diablo universe, told by one who has witnessed and participated in some of the epic events that make up the eternal conflict between the High Heavens and the Burning Hells.
Development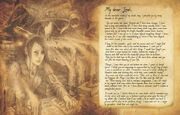 Elements of the book were cut due to time and length constraints, including Adria's backstory and faction/character lists. This content was later implemented in Book of Tyrael.[4]
References
External Links