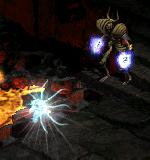 Bone Spirit is a monster skill employed by Oblivion Knight mages, usually encountered in the Chaos Sanctuary. The Bone Spirit is a homing projectile, identical to the Necromancer's spell of the same name.
Players may be able to dodge the spirit by running around a corner, trapping the spirit and preventing it from homing in on the character's location, or simply by running around in circles until the spirit's existence expires. A warning to those who try the latter method, however; in Normal difficulty, the hero's Stamina can be low enough that multiple Bone Spirits may exhaust him/her, preventing escape. This is less likely for a melee hero, given their ideal Vitality scores at this point in their journey to stop the Prime Evils.
Community content is available under
CC-BY-SA
unless otherwise noted.