Bone Prison is a Necromancer skill in Diablo II. It is often viewed as an upgraded variant of Bone Wall.
Similar to the Bone Wall, a Necromancer with this skill can summon a spirit wall of bone in the form of an enclosing ring. This prison traps all enemies within its circumference. Imprisoned within a cage of bone, the captives are held helpless until they can summon the strength to break through its skeletal confines or the Necromancer loses his hold over the spirits.
Synergies
Edit
Bone Armor: +8% Life per level
Bone Wall: +8% Life per level
Bone Prison is the third and last defensive skill of the Poison & Bone skill tree. It works just like Bone Wall except it surrounds and traps anyone in the targeted area, even the caster, in the middle of bones. In a defensive capacity, it can serve as a better Tank than Golems.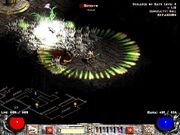 Bone Prison can't trap Wraith monsters and some monsters can shoot projectiles through bones.
The Life shown below are only for Normal difficulty. The Bone Prison hit points increase for Nightmare, and again for Hell Difficulty.
Diablo casts a variant of Bone Prison against players if they cast town portal too close to him, though it is marked as "An Evil Force." In Diablo III, he uses this attack to trap Follower prior to the final battle, forcing the player to fight him alone; as well as using it as one of his main attacks during the battle with him. If the player get caught in Diablo's Bone Prison, he grabs the player by the throat and drains them of Life before slamming his victim to the floor.
Skill Progression
Edit
Duration: 24 seconds
| Level | 1 | 2 | 3 | 4 | 5 | 6 | 7 | 8 | 9 | 10 | 11 |
| --- | --- | --- | --- | --- | --- | --- | --- | --- | --- | --- | --- |
| Mana Cost | 27 | 26 | 25 | 24 | 23 | 22 | 21 | 20 | 19 | 18 | 17 |
| Hit Points | 22 | 26 | 31 | 36 | 41 | 45 | 50 | 55 | 60 | 64 | 69 |
| Level | 12 | 13 | 14 | 15 | 16 | 17 | 18 | 19 | 20 | 25 |
| --- | --- | --- | --- | --- | --- | --- | --- | --- | --- | --- |
| Mana Cost | 16 | 15 | 14 | 13 | 12 | 11 | 10 | 9 | 8 | 3 |
| Hit Points | 74 | 79 | 83 | 88 | 93 | 98 | 102 | 107 | 112 | 137 |