New Pokemon Games - The Loop
Play Sound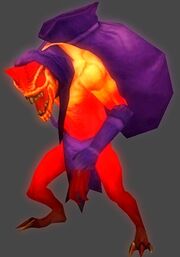 The Blood Thief, Fate Peddler is a variant of the Treasure Goblin in Diablo III, introduced patch 2.1.2.
They drop Blood Shards when killed (no other loot), and while running, also drop a trail of Blood Shards.
They have a bright red glow with shades of orange to distinguish them from normal Treasure Goblins.
Development
This page contains obsolete content
This article contains information that is no longer relevant to gameplay, but is kept here for informational purposes.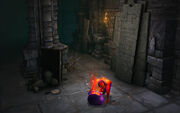 An exploit for Blood Thieves was discovered that allowed them to drop more Blood Shards than was originally intended. The exploit could only occur in Greater Rifts when in a multiplayer group and required a specific sequence of steps to activate. For the PC version, a hotfix was developed to correct the glitch. Accounts that abused the glitch have had a variety of punitive action related to how many times they abused it, ranging from permanant ban to effective pardon.
As hotfixes cannot be applied to consoles, Blood Thieves have been temporarily removed from the Xbox and Playstation versions until the release of a future patch.[1]
Trivia

This section contains facts and trivia relevant to this article.
References