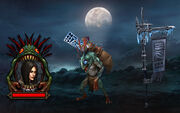 The BlizzCon 2015 (or BlizzCon Pennant) is a pennant available in Diablo III for players who have participated in BlizzCon 2015.
When obtained, it can be added to Wardrobe. Only one pennant can be used at a time. If equipped, it will be visible even in character selection screen.
Only the few, the proud, the hardest of the hardcore are worthy of flying with those colors.

This section contains facts and trivia relevant to this article.
It came with a similarly-themed portrait frame and a Murkgoblin non-combat pet.
Community content is available under
CC-BY-SA
unless otherwise noted.