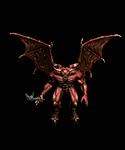 Balrogs are a type of megademon, though the term is sometimes used interchangably. They are regarded as "true Balrogs."
Balrogs are extremely fearsome, having had the honor of contact with one of the Great Evils. Imparted with great power even beyond that of the Vortex Lords, true Balrogs are one of Hell's greatest weapons,[1] and sometimes lead demons into battle for the glory of their masters.[2]
In-game
The Balrog is a recurring line of demon types.
Items
Several items are named after Balrogs as well:
Trivia

This section contains facts and trivia relevant to this article.
Balrogs are possibly inspired by J.R.R. Tolkien's Lord of the Rings universe demonic monsters of the same name.
References