Aughild's Dominion (previously Aughild's Vestment) is a Chest Armor piece of the Aughild's Victory crafted set in Diablo III. It requires character level 42 to be used. The level 70 crafted equivalent is Aughild's Rule.
Stats (Level 42)
Edit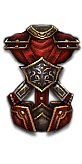 Aughild's Dominion
Set Chest Armor
Set Bonuses:
Reduces damage from melee attacks by 2% (2 pieces)
Reduces damage from ranged attacks by 2% (3 pieces)
Aughild's vestments were originally crafted to reflect both his savagery and his nobility.
Aughild's Dominion can be crafted using the Plan: Aughild's Victory, 14000 gold, 15 Reusable Parts, 15 Arcane Dust and 14 Veiled Crystals.
Community content is available under
CC-BY-SA
unless otherwise noted.