Aegis of Valor is a Crusader class set added in Diablo III patch 2.6.7.
It is modeled after the likeness of Imperius, and every piece of flavor text is taken from lines he has uttered in various media.
This set requires character level 70 to drop, and can only drop at Torment difficulty.
All set pieces are restricted to Crusaders only. Even transmogrification of these items is only available to Crusaders.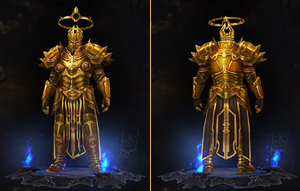 The set consists of six pieces. All six are required to complete the set, and all of them are Crusader-restricted.
Set Bonus:
Attacking with Fist of the Heavens increases Heaven's Fury damage by 100% for 5 seconds, stacking up to 3 times multiplicatively (2 pieces)
Hitting with Fist of the Heavens generates 5 Wrath and reduces damage taken by 1% for 5 seconds, stacking up to 50 times (4 pieces)
Increase the damage of Fist of the Heavens and Heaven's Fury by 20000% (6 pieces)
Community content is available under
CC-BY-SA
unless otherwise noted.